Vind een voedingsprofessional op Nutriportal voor ondersteuning en communicatie bij voeding, beweging, leefstijl en motivatie. Meld je vrijblijvend aan op www.nutriportal.eu en ga op zoek. 
Ik heb nog geen praktijk, hoe zoek ik iemand die mij kan begeleiden?
Registreer je geheel vrijblijvend met je naam en email adres op www.nutriportal.eu. (handleiding)
2. Zoek de geschikte praktijk voor jou. Ga in het menu naar praktijk zoeken:
3. Vul een plaatsnaam in en klik een discipline aan. Het systeem laat op de kaart de zoekresultaten zien.
4. De zoekresultaten worden zichtbaar op de kaart. Bekijk de pop-upjes op de kaart voor meer informatie.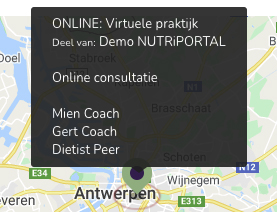 5. Klik op de popup en je ziet meer informatie over de praktijk, de professionals en praktijklocaties. Heb je gekozen, klik dan op "Kies deze praktijk".
6. Je wordt direct naar de "toestemmingen" gestuurd. Klik op het potloodje.
7. Zet nu alle toestemmingen op groen. Hiermee geef je toestemming dat jouw praktijk met jou kan communiceren met onder andere de mail en het dagboek. Jij bent eigenaar, dus je kan de toestemming altijd terug intrekken. Let op: klik onderaan op "opslaan".
Hierna kan je een afspraak inplannen bij de praktijk.
Ik wil van praktijk wisselen. Hoe doe ik dat?
Ga naar "mijn praktijk" in het menu
Klik onderaan op "verlaat deze praktijk".
Type een naam  of een locatie in.  Selecteer een discipline. Het systeem gaat zoeken.  klik op de kaart voor meer gegevens over de gevonden praktijken.
Heb je en praktijk gevonden?Klik dan op "Kies deze praktijk".
Ik heb een afspraak gemaakt bij een professional via zijn website. Ben ik dan aangemeld bij Nutriportal?
Veel professionals hebben een button op hun website staan: "Maak een afspraak".
Je gaat direct naar het stappenplan om een afspraak bij deze praktijk te maken. Je ziet bij de bevestiging en aan de bevestigingsmail of je met Nutriportal te maken hebt. 
Als je rechtstreeks bij een praktijk een afspraak boekt, dan ga je akkoord met de voorwaarden van nutriportal en de praktijk. Je kan altijd de  toestemming terug intrekken.